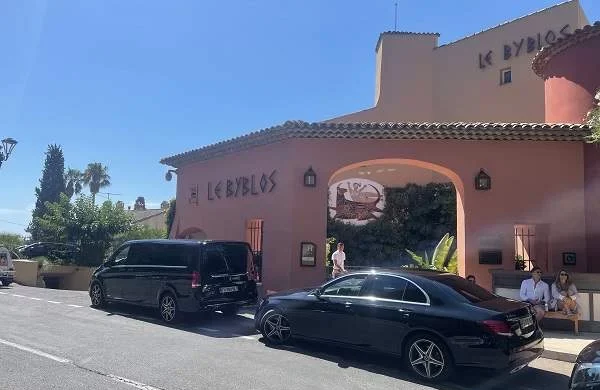 Private transfer, Nice airport to St Tropez
VIP Only Transfer company offers a high-quality chauffeured car service for tourist tours, transport and transfers between Nice airport and all the towns and cities in the region. We specialize in long distance transfers with personalized service and any stop as required for your comfort. Our service will save you the stress, hassle and delays of public transport. Safety, reliability, punctuality, discretion and courtesy are our top priorities. We treat each of our clients as a VIP and privileged guest. We will provide you with a safe, luxurious and comfortable vehicle driven by qualified, courteous, competent and helpful drivers. Take into account the difficult traffic for your transfer from St Tropez to Nice airport.
We specialize in long distance transfers
Live flight tracking
Don't worry about your
transfer, We track planes in
real-time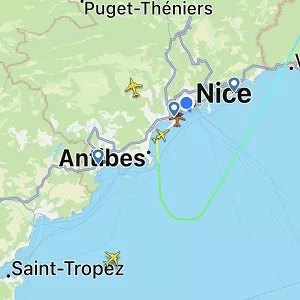 Airport meet & greet
We prepare an arrival
service for our clients at
Nice airport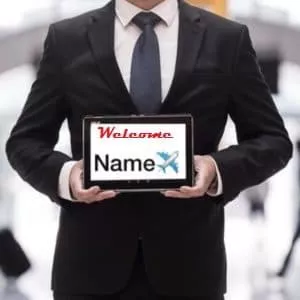 Carrying baggage service
We collect & carry your
luggage upon arrival at
the terminal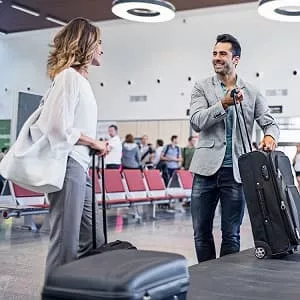 VIP service on board
We provide personal
assistance during your
transfer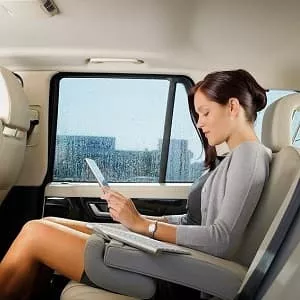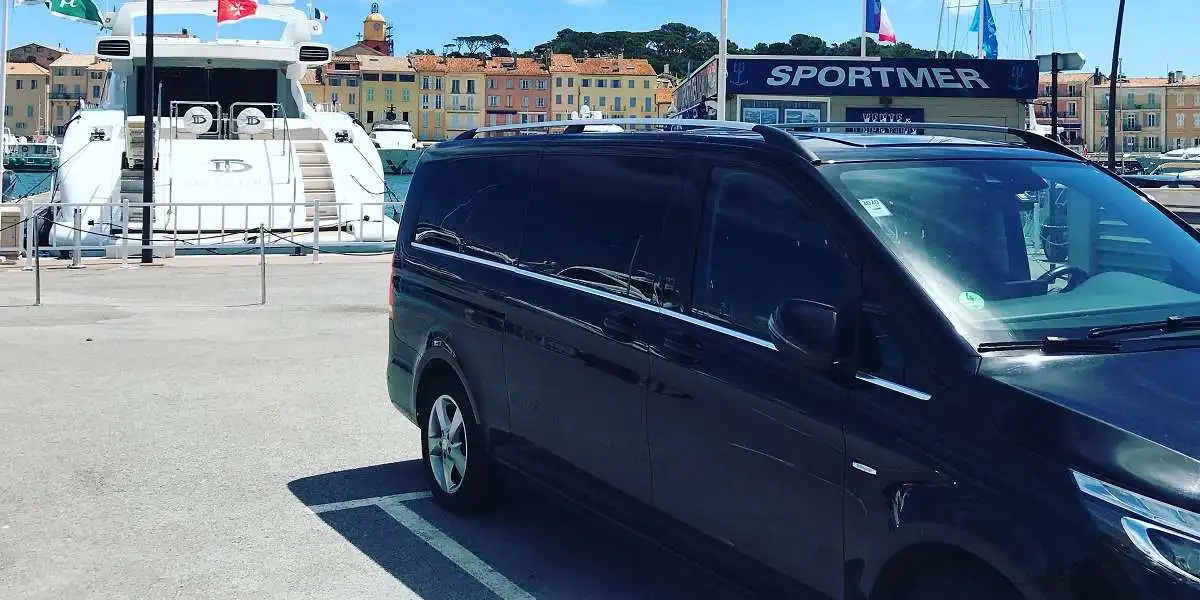 Luxurious & affordable transfer, St Tropez to Nice airport
Transport Nice airport to Saint Tropez: Our drivers are specialists of the region, using their knowledge for your transfers between Nice airport, St Tropez and its region. Your driver will be fully prepared before your departure or arrival at Nice Côte d'Azur airport, monitoring flights for changes in the schedule. You will be welcomed in the airport arrival hall, with a sign that discreetly displays your name, and your luggage will be carried to the parking area reserved for taxis and private passenger cars. Our drivers cater to your every need along your journey. Do let us know of any special requests ahead of your arrival so we can meet all your needs, or those of your family, ensuring your comfort and your well-being during the trip.
Before welcoming you on your arrival, your driver will have noted the address of your destination, hotel or private residence, and planned your route avoiding any traffic jam or heavy traffic. We do this to ensure your journey is as pleasurable and relaxing as possible. Book your transfer from Nice airport to the gulf of Saint Tropez .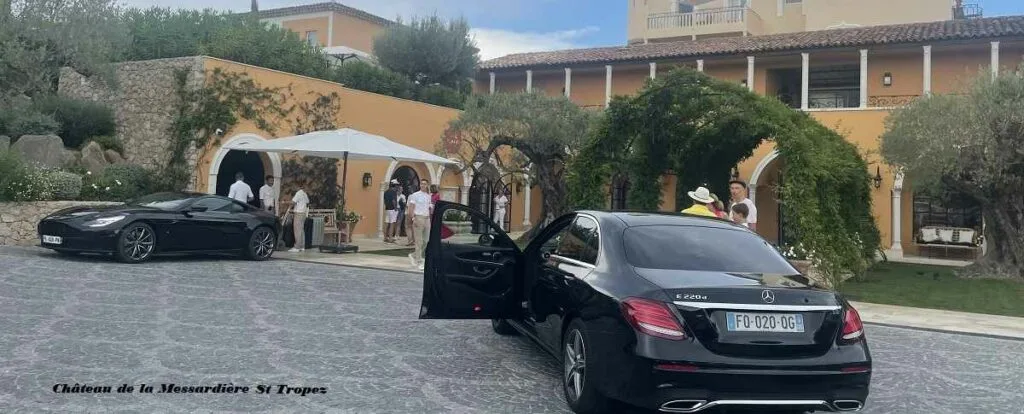 Transfer within Saint Tropez and region
To ensure you have an enjoyable holiday or pleasant stay in Saint Tropez, Nice Airport Transfer provides you with an exceptional, professional and discreet service for your regular or occasional transfers. We also offer a private chauffeured car service with a hire period that suits you, 24 hours a day, and 7 days a week. We'll transport you between your residence, the beaches, restaurants, nightclubs or any destination for your private or business trip in the region. We will escort you throughout your day of sightseeing, shopping or business. We will use our experience to help you organize and book visits to places that meet your interests.
Our prices are known in advance and are representative of the quality of our service, and we accept methods of payment that suit you: Credit card, PayPal, or cash at the end of the hire period.
Saint Tropez is names after Torpes, a Roman officer in the court of Neron. Converted to Christianity by Saint Paul, he angered the emperor who had him beheaded in the year 68. The body was placed in a boat with a rooster and a dog in Pisa. Following the sea currents, the boat made land in Saint Tropez. The red and white colors of the Saint Tropez flag are taken from the flag of the Republic of Genoa.

Transfer from Saint Tropez to Nice airport
With our experience and our know-how, we take all steps to avoid any stress or doubt for our customers. Before you return from Saint Tropez to Nice airport,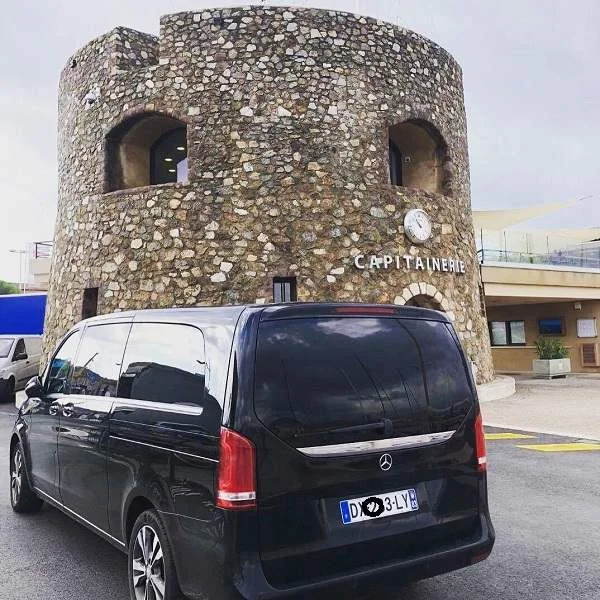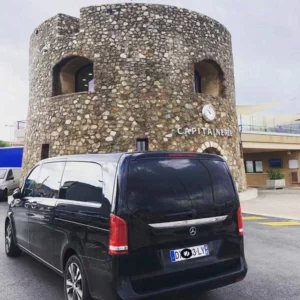 we will contact you to finalize your plans and provide you with up to date information regarding your transfer and flight: this will include providing a confirmation of the transfer well before the time of departure, informing your hotel reception or residence of the car's predicted arrival, providing you with an up to date calculated transfer time according to the time of day and road traffic, monitoring of the departure time of your flight in case of any changes. This professional and personalized service saves you queuing for an expensive taxi for your transfer to Nice airport from Saint Tropez. Our fleet of Mercedes Benz vehicles (Mercedes E-Class Sedans, V-Class Vans, S-Class Limousines) are selected for their exceptional luxury, comfort and elegance with up to date safety features. For more information on the private transfer between Nice Airport and Saint Tropez.
Famous and Lovely resort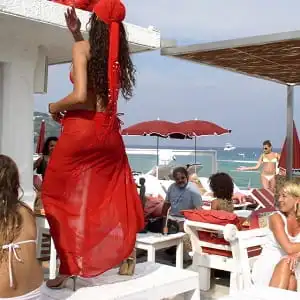 Protected by the bay and surrounded by a crystal-clear sea, Saint-Tropez is the summer retreat of the international jet set. It is one of the best-loved and most popular destinations on the French Riviera / Côte d'Azur. The town is known for its sunbathing, designer boutiques, luxury yachts and celebrities. It has attracted the most famous painters of the 20th Century and the musée de l'Annonciade, with works from Signac, Matisse and Braque, reminds us of this. We are at your disposal for all your transport needs between Nice Airport & Saint Tropez.
What to do In Saint Tropez
Use Nice airport transfer, to visit Saint Tropez and its famous sites: Old port or old fishing port, l'Annonciade museum, Museum of Maritime History in the Citadelle …We will drop you off at the famous public and private beaches of Saint Tropez and Ramatuelle including Pampelonne Beach, Tahiti Beach, Escalet Beach, Bouillabaisse beach, Canebiers beach and Nikki Beach … We can meet all your transport needs in Saint Tropez by night : Events, Restaurants, Nightclubs

Our other services in Saint Tropez
Our service: Nice Saint Tropez Airport Taxi  does not stop by dropping you off in front of your hotel or private residence. We will be at your service for all your travel needs by van, sedan or limousine with driver, in the region of the Gulf of Saint Tropez, the port of Grimaud, Gassin, Ramatuelle, Croix-Valmer … We will offer you our shuttle service with luxury vehicles between your vacation spot and your local destinations: restaurants, nightclubs, markets, shopping, museums, beaches, wine cellars…
Our drivers know the region well and will recommend reputable and privileged addresses. You will thus enjoy the delicious gastronomy of Provence, tastings of wines of controlled origin, the inestimable cultural heritage bequeathed by the great artists who lived on the Côte d'Azur, and this thanks to our transfer service from / to Nice airport.
Shuttle service
We excel at serving our customers, alone, in pairs or with families, anticipating your needs and requirements in terms of comfort and reliability. Your driver will show up in front of your accommodation 15 minutes before the departure time. He will notify you of his presence and prepare the vehicle chosen when ordering from Nice airport Transfer. No delay, no inconvenience will spoil your stay or your vacation in Saint Tropez.
Nice St Tropez airport road
To take you from Nice airport to the famous seaside resort of Saint Tropez, we offer a quick trip by taking the motorway, through the hills of the southern Alps, and the landscapes of our beautiful countryside, aboard a Mercedes luxurious. Or a beautiful walk along the picturesque towns of the coast of the Côte d'Azur: Antibes, Cannes, Mandelieu la Napoule, Agay, Fréjus, Saint Raphaél, Sainte maxime, Grimaud … You can choose to make a stopover for a drink glass of wine, or enjoy a meal on a beautiful Mediterranean beach
You can also use our classic taxi service for transportation between Nice airport and Saint Tropez with correct prices and efficient services.
Ask: how much is a taxi from nice to st tropez, Or taxi cost from nice airport to st tropez. Use our contact forms or our live chat on WhatsApp, phone call, or SMS message. We will answer you as soon as possible after receiving your message.